I'm super excited!

I won a banner at MommyPR. I didn't even know how to do a banner so I went googling for a free banner and edited it myself. It works. I like it. Well it was short notice and I only had so much time to respond to the giveaway win!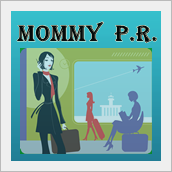 I entered but didn't think I'd win and all the time I was entering, I kept wondering why am I entering this anyway. There are better bloggers who can benefit from something like this...etc etc etc. So I was really surprised when I got the email that I won.

I'm right at the top! Whooo! Go lookie!

Angela is a very kind woman and has built her website successfully in just a few months. She has something for everyone. Visit and spend some time perusing her site.

I am also the Sunday Featured Blogger on Eighty MPH Mom? Yes! yes! I am so go check it out and ask me any questions you wish.

Also check out her Monday Mingle meme.


It's quite interesting and have me putting my shy self in front of a video lens! I'm usually behind them things. You might just want to join in too.
Check out her giveaways and reviews too. She gives away really cool goodies.
**********************************
I'm about to be a football widow on the double. First college football begins this weekend and then NFL will begin. I don't mind watching football, as a matter a fact sometimes I'm your crazy screaming fan for a few of my favorite teams, but unlike the man, I can't just sit and snort the game as I have kids and various other things to get done in regular life.
All this excitement must be settled with ice cream :)
I'd share if you were near.
A hui hou