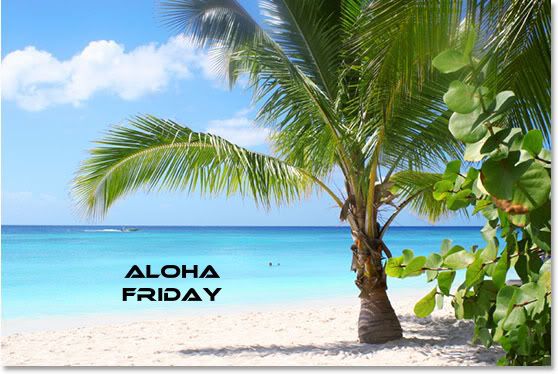 My Question:
Do you exercise?
******************************************
I didn't used to, but since I've had my babies I notice my little pouch in the front wont go away, so now I have decided to start exercising. Not just for the pouch, but also for good cardio. I also wanted my tummy back to it's washboard state before having another baby. So I bought these two dvds to help me. I love love love the tae bo one, but the belly dancing one is ....harder to incorporate. I don't have the time or energy to do it after the tae bo. I don't exercise everyday either. maybe twice a week, sometimes less if things are too busy.
Kailani

says "In Hawaii, Aloha Friday is the day that we take it easy and look forward to the weekend. So I thought that on Fridays I would take it easy on posting, too. Therefore, I'll ask a simple question for you to answer. Nothing that requires a lengthy response."

If you'd like to participate, just post your own question on your blog and leave your link on

Kailani's

blog. Don't forget to visit the other

participants

! It's a great way to make new

bloggy

friends!
Breast Cancer Awareness: Yoplait's Save Lids to Save Lives Giveaway 10/31
**
Nature Valley Granola Nut Clusters 'Snack Pack" Prize Pack Giveaway 11/19
**
Unilever Beauty Tip Of The Day and Giveaway 11/19