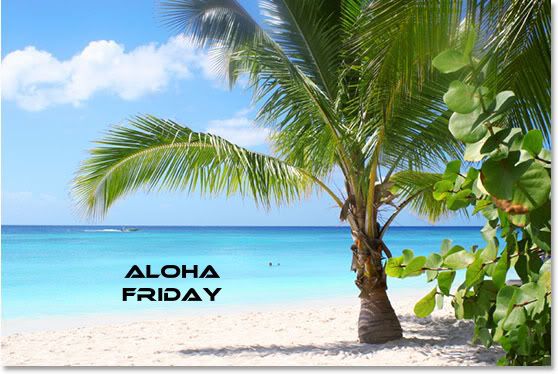 My Question:
Do you have health insurance?
******************************************
We do have health insurance, but we try not to go the doctor at all as it doesn't matter that we do have it, it's still paying an arm and a leg. So it is best not to go unless it's an emergency such as blood gushing or someone having a baby. The last time we went was when my daughter busted her head open and the charges that came from that was serious. And all they did was put skin glue on it! I guess I do have to count the ambulance ride too but it was still mind boggling that it was so much. I need to be doing a yearly pap but haven't been doing that and the dentist thinks I should look at my throat by a specialist but it's lingering. Dh thinks there's nothing wrong with me. I'd still like to know though, but we'll see.

Kailani

says "In Hawaii, Aloha Friday is the day that we take it easy and look forward to the weekend. So I thought that on Fridays I would take it easy on posting, too. Therefore, I'll ask a simple question for you to answer. Nothing that requires a lengthy response."

If you'd like to participate, just post your own question on your blog and leave your link on

Kailani's

blog. Don't forget to visit the other

participants

! It's a great way to make new

bloggy

friends!
Click to enter the
CSN Stores: Anatex - Magnetic Travel USA Map Giveaway - 10/25