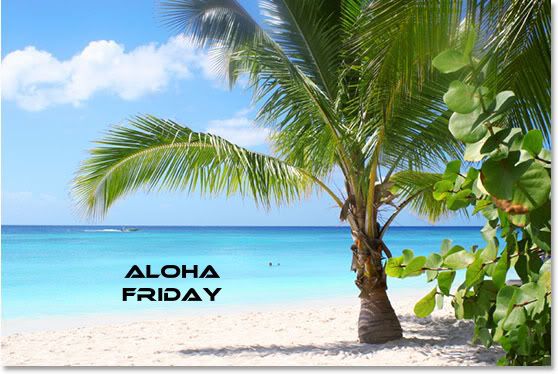 My Question:
When you gave birth, who was there?
******************************************
When I gave birth to my son (firstborn), one of my sisters-in-law came to spend the week with us (dh and me). However baby was a week late and SIL could only extend her ticket by two days. I was induced and went into labor and she got to be there and held him even before I did :) However she had to leave just mere hours after he was born.
With my daughter, it was my husband, my mother-in-law and my brother-in-law. My MIL came to stay with us for the birth and help out. She got to be in the room (OMGM-Ohmygirlymouse)!!! My BIL (Hopefully he wasn't in there!!!) was passing through from Fla to go back home and stopped to visit and got caught up in this precious time.
It's been quite interesting these births. I will like to see what it will be like with my next baby.
Have a wonderful weekend! Aloha!

Kailani

says "In Hawaii, Aloha Friday is the day that we take it easy and look forward to the weekend. So I thought that on Fridays I would take it easy on posting, too. Therefore, I'll ask a simple question for you to answer. Nothing that requires a lengthy response."

If you'd like to participate, just post your own question on your blog and leave your link on

Kailani's

blog. Don't forget to visit the other

participants

! It's a great way to make new

bloggy

friends!
**
Nature Valley Granola Nut Clusters 'Snack Pack" Prize Pack Giveaway 11/19
**
Unilever Beauty Tip Of The Day and Giveaway 11/19