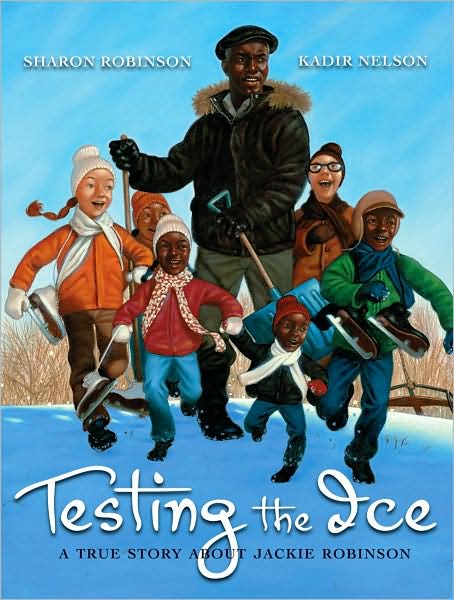 In the early 1950s, legendary baseball hero Jackie Robinson literally "tested the ice" for his kids who so eagerly wanted to skate on the frozen lake near their home. Under Sharon Robinson's skillful authorship and Kadir Nelson's vivid illustrations, TESTING THE ICE also becomes a stunning metaphor for her father's remarkable racial breakthrough.
I received this book to review and read it to my children during story time like any other book in our library. The kids loved that it was a different kind of book from the Dr. Seuss or other children books we've been reading. My son was mostly excited about being able to find his name over and over in the story. They wondered if I would take it back to the library, to which I tried to explain to them, that this book now belongs to our family. It will be lovely to read this book to my children as they grow older so they can learn of this great hero who broke through the racial barrier in the baseball arena and paved the way for so many of his fellow men. Life stories like these are dear to me.
Sharon Robinson shares this book as a glimpse into her childhood growing up as Jackie's daughter. She recounts special times spent with her dad as he shared how he was chosen for major league baseball and the obstacles he faced and overcame. One of these stories includes one winter day when she watched her father 'testing the ice.'
This was the moment when Sharon first understood the courage it took for her father to step out and break baseball's racial barrier. Even though her father couldn't swim, when the children wanted to go out on the frozen lake to skate, he bravely went out on the lake to test the ice to ensure it was safe for the children to skate. To Sharon, her father was the 'bravest man alive!'
And we agree.
This is a very good read that is short enough for my children attention span and enhanced by the vividness of Kadir's wonderful illustrations.
Jackie is portrayed as a strong and loving father who took an active part in his family's daily routine. I wish I had a father like that. I wish I had my father period. That's also apart of being a hero.
Watch this video featuring author Sharon Robinson and illustrator Kadir Nelson
Biography
Sharon Robinson
is an educational consultant for Major League Baseball and vice chairman of the Jackie Robinson Foundation. She founded Major League Baseball's
Breaking Barriers: In Sports, In Life
, a national character education program designed to teach children the values and traits they need to deal with barriers and challengers in their lives. She is the author of many widely praised nonfiction and fiction novels including
Promises to Keep: How Jackie Robinson Changed America
as well as two middle-grade novels,
Safe at Home
and
Slam Dunk
, with cover art by Kadir Nelson. Ms. Robinson divides her time between New York City and Florida.
Kadir Nelson
used Jackie Robinson's personal family photographs as inspiration for his artwork in
Testing the Ice: A True Story about Jackie Robinson
. His many award-winning books include two Caldecott Honor books,
Henry's Freedom Box: A True Story from the Underground Railroad
, written by Ellen Levine, and
Moses: When Harriet Tubman Led Her People to Freedom
, written by Carole Boston Weatherford. His own book,
We Are the Ship: The Story of Negro League Baseball
was named a
New York Times
Best Illustrated Children's Book and received the Coretta Scott King Author Award.
BUY IT!
**
Nature Valley Granola Nut Clusters 'Snack Pack" Prize Pack Giveaway 11/19
**
Unilever Beauty Tip Of The Day and Giveaway 11/19