I woke up feeling terribly sad, so I gave the kids a snack and went to watch a movie and finished eating my favorite chocolates; Mauna Loa macadamia nuts white chocolate.
The movie was very good. I loved that they didn't seek to say that the dead could really change anything from the grave, or influence direction in anyway.
It's terribly sad, yet good and hopeful and you see forgiveness and life being real.
It is so important for us to teach our children about predators and as much of the many ways they will seek to lure our children away. We don't want to live in fear, simply aware.
In these times, predators are usually very close...family, friends..coworkers. Please make it a point to have this discussion with your children.
Go watch The Lovely Bones.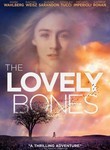 After the movie, I went to wash dishes. I don't like seeing my sink dirty. And my tears seemed just as much as the rushing water from the faucet. I felt too much. I felt I wasn't a good mother. I felt I shouted at my kids too much. I felt I wasn't a good wife. I felt I didn't have a career and that I wasn't accomplishing anything with my life.
I kept telling myself that soon it would go away and I would feel better. I might as well process the feeling.
Soon I was talking to my bestfriend and still crying.
My hubs was asleep all this time.
I couldn't handle the kids normally.
My MIL called and we hashed out alot of things. I was totally honest with her without breaching anyone's confidence and I guess she found out that I say, shit and damn and crap. Well it's about time. This is real life.
She prayed for me and them and lots of other prayers.
Then I went back to talking with my BF and I started to feel lots better. Maybe it was the telling of my side to a certain extent to the MIL or the prayer, but something relieved me of that terrible depression I was having.
Dh woke up later and offered to surprise me with dinner out for our anniversary.
We went together. We loved the food. The kids were complimented on their good behavior from other patrons. We were too full for dessert.
Tomorrow we'll have dessert with the kids. Deo volente.
So all in all, the day did wrap itself up well. I am thankful.
Here's to our Six years....let's hope the next year will be more fruitful for us as a couple and family.
About the author: Owner of JamericanSpice. Sharing my journey in the present, from the past or thoughts for my future. Mom of two who loves to travel and read and decipher people.