Yes it is all about the O for orange. Everywhere I look it's orange, leaves and trees and pumpkins and decor! Whoo! Let's enjoy this bright season of food and fun and beauty.
Millions of pounds of pumpkin pulp is scraped from pumpkins throughout the Halloween season, resulting in yummy pies, creative jack-o'-lanterns... and plumbing nightmares.
Every year, plumbers get lots of calls to repair
garbage disposers
and
kitchen sink drains
that have been clogged with slimy, stringy pumpkin pulp and seeds.
Follow these tips to guard against Halloween drain disasters
Never put pumpkin pulp or seeds down the toilet, sink drain or in the garbage disposer. The stringy, sticky gunk hardens and clogs drains and disposers.
Carve pumpkins on a thick bed of newspaper. Wrap up pumpkin-related materials and throw away in the garbage can or

compost pile

.
Separate the seeds, then roast for a tasty treat. Or grow your own pumpkins by planting this year's seeds early next spring.
Did you know... In 1979, Roto-Rooter created a popular
TV commercial called "The Raving," which was inspired by
Edgar Allan Poe
's famous poem "The Raven."
It's still popular today.
Fun Facts, according to
Guinness World Records
The world's largest jack-o'-lantern was carved from a 1,469 lb pumpkin on October 31, 2005.
The fastest time carving a face into a pumpkin is 24.03 seconds, recorded July 23, 2006.
Do you carve your own pumpkin?
2. Do you make your own pumpkin pies? And do you plant the seeds?
*******
1. I've never carved a pumpkin before. Dh bought
this one
and says he will carve it but based on his schedule,, I doubt it so I might cook it or try carving it or something...not sure but it can't remain in our pantry.
2. I've not made pumpkin pies before, but would love to try. I love learning and trying new things. I might plant the seeds this time around since the kids are older and do want to get it done.
Kailani

says "In Hawaii, Aloha Friday is the day that we take it easy and look forward to the weekend. So I thought that on Fridays I would take it easy on posting, too. Therefore,

I'll ask a simple question for you to answer

. Nothing that requires a lengthy response."

If you'd like to participate, just post your own question on your blog and leave your link on

Kailani's

blog. Don't forget to visit the other

participants

! It's a great way to make new

bloggy

friends!
I am also joining in with Friday Follow. So if you happen to visit and follow me, I will definitely be returning the love.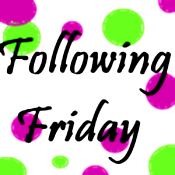 Stop by and check out this new meme!
About the author: Owner of JamericanSpice. Sharing my journey in the present, from the past or thoughts for my future. Mom of two who loves to travel and read and decipher people.