I'm always looking for healthier ways to keep and make my skin beautiful. What woman doesn't want to feel soft and pampered in their own skin.

Dial is giving me great tips on how to keep my skin healthy. I'm so excited to share some of these tips with you and hope that you will try their products.

How do you pamper your skin?

In week 1 we discussed Skin healthy foods. Amy Hendel, the Dial healthier you program expert shares some great tips throughout the whole program about how to be a healthier you. I hope you will get to see all her informative videos.
They say that you are what you eat, and when it comes to your skin's health, your food choices can improve your skin's resilience and clarity, slow the aging process and prevent breakouts. Keeping processed foods to a minimum and focusing on a diet rich in whole foods will help your skin maintain its health.

Let's look at the three major aspects of skin care:

Hydration:
To keep your skin from becoming dry, drink lots of water and eat foods like oily fish and flaxseed that are rich in omega-3 fatty acids. Make sure to include foods fortified with biotin like white meat chicken, eggs and Swiss chard to help your body process those healthy fats.



Blemish fighters:


To fight breakouts, make sure to follow a proper skin care regimen, and include foods rich in zinc like vegetarian baked beans, garbanzo beans and pumpkin seeds.

Anti-aging:
Commit to regular use of a broad spectrum SPF, and add vitamin E to your daily diet to prevent skin damage and wrinkles. Foods enriched with Vitamin E include tuna and fortified cereals. Dark chocolate, tea and watermelon contain compounds that will also help you fight skin damage.

When you go to the supermarket to buy these healthy skin-promoting foods, include Dial® NutriSkin™ body wash, which hydrates and moisturizes while cleansing your skin of impurities. Remember to share your healthy eating tips and experiences with us by posting your Dial® Diaries. At the end of this week, let us know if you are already seeing a positive difference in your skin!
- Amy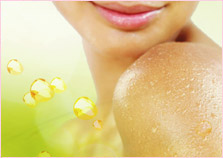 I did get to try the Dial ultra hydrating body wash and I must say, it definitely leaves the skin feeling clean, soft and moisturizing. I also love the scent. I can't wait to try their other products!
You can find them
here on Facebook
!
This was not a paid post and I received a bottle of Dial body wash. See my
disclosure
.
About the author: Owner of JamericanSpice. Sharing my journey in the present, from the past or thoughts for my future. Mom of two who loves to travel and read and decipher people.