My baby girl is four. Time is not a mother's friend. Soon she'll be hauled away from me to school. I want to keep her, but alas I must let go bit by bit.
It was a one on one party for baby girl.
She loved the phone and backpack from her auntie.
She wanted her kitty cake
I also just learned that I am a guest host for Good Friends Just click! Whooo! Thank you.
Just leave a message and let me know to follow you back ok. I always visit , even if I'm late!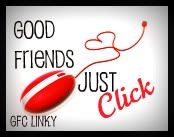 Let's be friends, link, click, and connect! No rules! Now just follow as many as you can on the link below and become friends- because you know, blog friends are some of the best friends you can have in life -just ask us! Leaving comments is a plus on your way to new friendships. Stumbles, Tweets, and FB Likes are a great way to show love too! Thanks for stopping by and hope to see you around soon-(like every Tuesday!) A Mom's Take, Queen B, Dealicious Mom, Mom to Bed by 8 and Guest Host Jamerican Spice! Good Friends Just Click – Google Friend Connect Blog Hop!
About the author: Owner of JamericanSpice. Sharing my journey in the present, from the past or thoughts for my future. Mom of two who loves to travel and read and decipher people.