I used to use Keri lotion a few years ago but stopped. I have no idea why. I guess I moved on with experimenting. However I'm glad I got a chance to remember how very good Keri is for my skin! And it's just in time for the dry winter months that turn my brown skin to ash and wrinkles.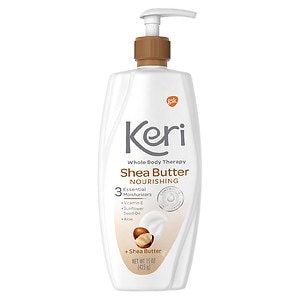 I'm getting older,
forever 29
, and it's best to keep my skin moisturized both inside and out. I have to admit; I'm a lazy moisturizer. I still have that feeling of immortality and you know you never see yourself aging until one morning you wake up and wonder who is that person staring back at you!
But I've been re-directing my mind to be discipline in using moisturizers all over my body and I hope I get into the routine of it.
My bottle of Keri will serve me and my daughter for a long while. I'm getting her into the idea of moisturizing early. I didn't have anyone to teach me so I'm lovingly imparting the importance of protecting her skin at an early age.
I really love my Keri lotion!
I received the Keri Shea Butter Conditioning Therapy and it's yum and glides on smoothly and leaves my skin hydrated for hours!
Keri Lotion is the brand that has been recognized for more than 50 years as a great lotion that has provided continuous moisturization for generations. Because everyone's skincare needs are different, Keri offers a line of hand and body lotions to meet the needs of your specific skin. Ease lotion is formulated with the Keri Hydro-Deep technology, which penetrates the skin with a unique blend of moistirzers to lock in long lasting moisture protection, helping to keep your skin looking and feeling it's best all day long.
Keri lotion is availabe in five different varieties, ranging in prace from $5.99 to 7.99, tailored to meet the needs of individual women's skin:


Keri® Original – Enhanced with five essential moisturizers, this product is daily dry skin therapy for smooth, healthy looking skin.

Keri® Advanced – This non-greasy, lightweight formula is fast absorbing for silky, soft skin.

Keri® Shea Butter Conditioning Therapy – Provides a conditioning therapy that penetrates deep into skin to nourish with naturally rich Shea Butter.

Keri® Basic Essentials – Made with Aloe Vera and Vitamin E for a lightweight formula that provides optimal hydration.

Keri® Luxurious – A total indulgence for the skin, with a light apple scent and Vitamins A, C and E.
Which Keri® Lotion is best for you?
Keri® Lotion is available at Walmart, Rite Aid, DrugStore.com and other retailers nationwide.
Why is Keri Lotion re-launching its products now?
In celebration of its 50th golden anniversary, this trusted brand has updated the look of the packaging on the entire product line, which features the same great lotions that have provided continuous moisturization for generations.
Win one of the lotions for yourself! And you can also
print a $2.00 coupon on their website
for your next Keri purchase!
Enter in the Rafflecopter form below. Easy clicks!
JamericanSpice received one or more of the products mentioned above for free for evaluation purposes. Regardless, all opinions expressed are still 100% my own. I am disclosing this in accordance with the Federal Trade Commission 16 CFR, Part 255 Guides Concerning the Use of Endorsements and Testimonials In Advertising. JamericanSpice disclosure. Facebook is in no way associated or responsible for this feature or giveaway.
About the author: Owner of JamericanSpice. Sharing my journey in the present, from the past or thoughts for my future. Mom of two who loves to travel and read and decipher people.