When my babies were newborn and we'd visit the pediatrician for their wellness check up, I couldn't help but wish for one of those handy little thermometers that they swipe across the babies forehead so quickly and get the temperature instead of having to sit and wait for a temperature by arm, mouth, or rectum! I can only imagine how much more difficult it would be to wait around on a crying and fussy child for a good temperature reading while at the pediatrician.

Well six years later and two children and I'm just getting an opportunity to use one of these handy little gadgets!
The Kidz-Med VeraTemp Non-Contact Thermometer was easy to set up. I just open the package and load the batteries and read the instructions on what to expect and I am are good to go. It's good to know what the different temperatures mean and also what's normal and abnormal.

When I was first introduced to this thermometer, my daughter was sick, however by the time it arrived, everyone was well!
I love that this is a non-contact thermometer, which means you wont need to touch your child or awaken them to take a temperature.
No more getting your child to stay still to wait for the thermometer to get the right temperature and do the : *beep. beep. beep*
I can't tell you how many times I had to hold my child's arm in place as I do an underarm temperature measurement or having to stand there the whole time hoping that they do have the thermometer under their tongue!
I still have the little one they give you before leaving the hospital with your baby!
The thermometer gives the reading so fast that I had to keep doing it again to be sure it actually read it. I think I did all over the kids bodies to see the different readings. Yes I also did the room and surface temperature! I promise if you have one, you'd probably do the same thing!
The kids are happiest to have their temps taken when they aren't sick. They were all over this thing! I couldn't even see the screen most of the time!
The device works so quickly that I can't wait for another sick child to use it on. I know I should never want a sick child but I simply cannot help the thought now :)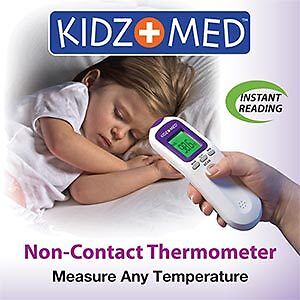 The room and surface temperature works well too. I was surprised how hot my computer actually was! This will be perfect for when the kids are sick and when we have another child.
The Kidz-Med VeraTemp Non-Contact Thermometer is for multiple uses around the home:
Reads babies bottle, food, bath water and even room temperature (body, room and surface temperature)
More accurate than a rectal, oral, or ear thermometer
Built-in memory records last 32 readings
Reads temperature without touching
Battery saving Auto-Off feature
Easy to use-instant reading
Non-invasive; non-irritating
No probe covers needed
Celsius or Fahrenheit
The 5 in 1 Non-Contact Thermometer is a hand held, battery powered device that is intended to be used for the intermittent measurement and monitoring of human body temperature of people of all ages. It measures the infrared energy emitted from the skin surface of the forehead. There is no need for contact with the skin. It can be used by consumers in the household environment.
Features;
Specially designed to take the body temperature of a person regardleess of the room temperature
Screen color changes related to temperature (Green, Orange and Red)
Last 32 readings automatically stored in memory
Back-lit LCD screen, easy to read in a dark room.
Temperature displayed in either Fahrenheit or Celsius
Automatic off to prolong battery life
Small and convenient to use
Body mode; human body temperature measurement 90 degrees Fahrenheit to 109 degrees Fahrenheit (32C to 42.9C)
The Kidz-Med VeraTemp non-contact thermometer provides convenience, accuracy in a trauma-free, parent tested and FDA approved thermometer. With VeraTemp non-contact technology, there is no need to touch, startle or wake your child when taking their temperature.
The elegantly designed Kidz-Med VeraTemp gives instant readings in Celsius and Fahrenheit and is easy to use with fussy or combative patients. The non-contact technology also allows you to use the thermometer to take other temperatures around the home. This superior, non-contact thermometer delivers Truth, Accuracy and Precision...it is temperature taking, redefined.
You can find Kids-Med on
Twitter
,
Website
and
Facebook
WIN one for your child/family.
Enter the easy rafflecopter form below. Click on post link.
JamericanSpice received one or more of the products mentioned above for free for evaluation purposes. Regardless, all opinions expressed are still 100% my own. I am disclosing this in accordance with the Federal Trade Commission 16 CFR, Part 255 Guides Concerning the Use of Endorsements and Testimonials In Advertising. JamericanSpice disclosure. Facebook is in no way associated or responsible for this feature or giveaway.
About the author: Owner of JamericanSpice. Sharing my journey in the present, from the past or thoughts for my future. Mom of two who loves to travel and read and decipher people.