1. Are you on Wordpress or Blogger? or other?
2. Which platform do you prefer?

1. What have you done recently that you are proud of?
I decided, felt it was time to forgive my in-laws. I was very angry at what happened, but for me, it's ok and I can let go. Doesn't mean I will forget. But I don't want them to think that I hate them or anything like that.
2. What is your favorite way to work out? Or if you don't workout, what are you wanting to try?
I watch the tv and follow along in my living room. Is that how you mean? :)
3. If you knew you best friend was cheating on spouse would you tell?
I would speak to her about it and let her know I'm very uncomfortable with it. I am not sure if I'd tell. It depends on the relationship I have with her spouse, if he was a friend or a relative, or if he was a honest person or if he was just *#$"*#$#@
4. If you could afford a live-in maid or nanny, would you have one?
No...maybe if we both were working and I couldn't manage.
5. Do you stress out about birthdays (specifically the age) or do you enjoy them?
I sometimes don't even remember mine until others do. I need to learn how to
celebrate myself
as an individual.
And, a bonus question from Scott, that I wasn't brave enough to put in as a regular question...answer at your own risk, or not at all! (Or something...) Bonus: Lights off or on?
Off.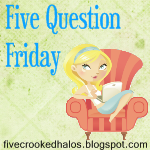 About the author: Owner of JamericanSpice. Sharing my journey in the present, from the past or thoughts for my future. Mom of two who loves to travel and read and decipher people.