1. What's your favorite magazine to read?
2. Do you get it for free or subscribe?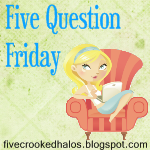 1. If you were free to just hop in the car and drive, where would you go?
A beach where I could wear a bathing suit and swim
Or, if you could hop a plane and go anywhere, where?
I'd go visit my mom in the Caribbean, just to spend some time with her.
2. What's your most recently read favorite book?
I read three of them. It was very different and wow!!!
The Mating, The Keeping, The Finding
3. What's your favorite Spring Break memory?
I actually don't have one.
4. What do you put in your child's Easter basket? Or, for those w/o kids, what was put in your childhood basket?
I don't make Easter Baskets. We go to a church outing where they search for Easter egg and have lots of kiddy fun.
5. Do you get a summer haircut?
I don't get hair cuts. My hair doesn't grow at that rate to get them.
About the author: Owner of JamericanSpice. Sharing my journey in the present, from the past or thoughts for my future. Mom of two who loves to travel and read and decipher people.