I've always eaten breakfast and made a variety of different menus for the kids in the mornings. Of course sometimes I get burnt out and just fall back on cold cereal, but I love doing breakfast and finding new items for the morning meal.

I just jumped out of the box again, with Arnold and Oroweat Pocket Thins. The fluffy, pre-sliced pita pockets are very soft and easy to incorporate into the breakfast and lunch routine.

I made a few pita omelettes - my way of adding cooked eggs and bacon inside the pita and then serving them with orange juice.

I also tried it with cream cheese, nutella and chicken leftovers.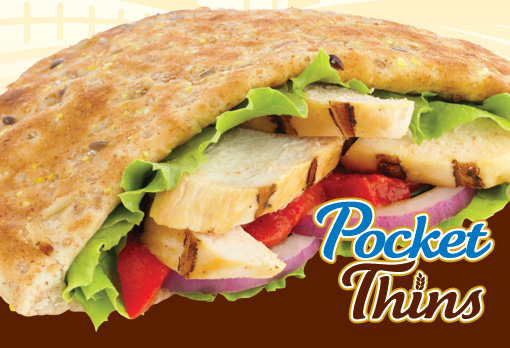 It's best with the omelettes and chicken leftovers, at least the kids and I agree about that :) We of course add tomatoes and bell peppers to the mix and every now and then, a few leaves of baby spinach.

They are soft and taste really good.

I have added the pocket thins to my list for shopping.

Pocket Thins Flatbread:
Arnold and Oroweat, the creators of Sandwich Thins rolls, introduce the newest sandwich option: Pocket Thins flatbread.
Versatile and soft, these 100-calorie pre-sliced pita pockets are offered in Italian Herb and 8 Grain.

Pocket Thins flatbreads are sold under the Arnold brand name in the East, Brownberry in the Midwest and Oroweat in the West.

The product is currently available in most markets except the Southeast and South Central states.

The SRP is $3.99.

For more information, visit the NEW Pocket Thins flatbread tab on Facebook.com/SandwichThins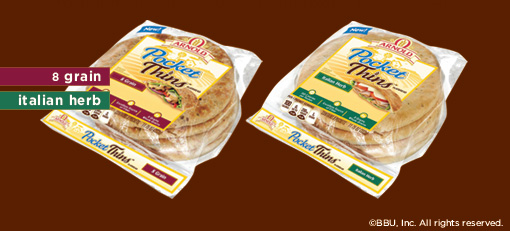 About the author: Owner of JamericanSpice. Sharing my journey in the present, from the past or thoughts for my future. Mom of two who loves to travel and read and decipher people.

Please read my disclosure


Tweet