What are you thankful for this week?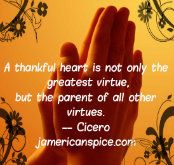 I found my voters ID - Wasn't sure if I needed just it or drivers license or something else.

- I voted: I was happy to be able to do so without fear for my life. And it was a good discussion with the children.

- Thankful for happy children, despite my parenting failures. I always pray to be a better parent.

- I have to get up early and make breakfast for my kids. If not, I would never eat breakfast in the mornings.

- Being able to find affordable activities for my children so they can be part of a team

- Having my husband home with us for another month. The children sure do miss him and I know our relationship needs him close, despite out trying times.

- Being able to stay home with my children.

- That my husband has a good job. And even though things are tight, we give thanks to pay our bills and get groceries.

I will be sharing my thankful thoughts during the month of November and December. The kids have a jar that they've been putting notes in throughout the year too and we'll read those at dinner. So these are basically my post it notes. Join in if you wish and we'll visit each other!

by Dave Whitehead, Senior Pastor, GraceNYC.org
David, the author of this Psalm, was distressed as he was writing this. Yet in the midst of great hardship, David acknowledged that God guards those things that are valuable to David: his portion, his cup and his lot.
His portion was the provision that was needed for him to survive. His cup was the purpose in life that he had (remember Jesus, who spoke to the Father of "taking this cup from him"). His lot was the inheritance of land that was a major part of preserving Jewish lineage.
When David felt separated from all of these things, he reminded himself that his current situation was not the final word: it was God's faithfulness that he trusted in during times of trial. That same faithfulness is available to you and me. Our God is the same yesterday, today and forever.
Lord, you alone are my portion and my cup; you make my lot secure. – Psalm 16:5
Colette is a busy mom of 2 kids focusing solely on being a mom. She hails from the Caribbean and now balance the full life of being a SAHM and dabbling in odd jobs to help around the home. She enjoys sharing her memories, hopes, food, travel, entertainment, and product experiences on her blog. Please read my disclosure

Tweet