It is amazing to laugh and cry at the same time.

You will enjoy this story that I found over by Rosey. I've always heard of Beth and done some bible studies of hers and they are absolutely God filled.

This story is so simple and yet so powerful!





And today I want to be thankful:

That our home wasn't flooded from those storms that came through with all that rain! There is water everywhere and I feel so sad for people whose homes are waterlogged. We just had some in our garage.

Thankful they caught that murderer who escaped close to our home

Thankful that despite how much I feel I'm failing as a mom, my children are happy and growing and learning at a mighty rate. I strive to be better.

That we can purchase groceries this week.

And despite how alone I feel, I know someone loves me.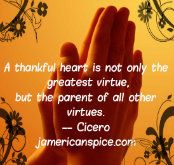 What are you thankful for?

Who can you minister to today?




Colette is a busy mom of 2 kids focusing solely on being a mom. She hails from the Caribbean and now balances the full life of being a SAHM and dabbling in odd jobs to help around the home. She enjoys sharing her memories, hopes, food, travel, entertainment, and product experiences on her blog. Please read my disclosure


Tweet