While on our trip to Georgia, the boy had his Nintendo DS for entertainment if things got boring. I didn't like what I saw on that trip. The boy made out like his heart was hooked up to the DS. It came with tantrums, attitudes and worse: treating his toy more important than his sister...and other people.

No. That does not work in my home. People before things always.

So before we returned home, I told him that once we got home, the rest of the month of July and August would be Video Game Free.

They might get to play on a weekend or a day, but not the everyday plug in that has been happening.

And even while I used to let him enjoy his gift. I would tell him that it needs to be turned off by 4pm and he agreed with attitude. I thought that was working, especially seeing there are things needed to fill the days of summer when we aren't out and about, doing school work revision or other things.

Things are going good so far with the new mandate for the rest of the month.

His friend visited him yesterday and I told him it was okay to take his little box with the DS and games and charger for the visit, but after his friend leaves, he'll need to turn it all off and put it away.

I was REALLY surprised that he did put them all back in the box and I didn't have to remind him at all! I told him I was proud of him being responsible.

Now it's all back to the love of books. He loves reading, but seemed to ditch it in favor of Mario bros :)

Right now he is so excited to read the next bundle of Hardy boys he found at new library we visited.

He got 10!
I feel so nostalgic about these books and want to read them with him again!
I can't wait for baby girl to read Nancy Drew!

The Clue of the Hissing Serpent
2. The Mystery of the Cabin Island
3. The Mark on the Door
4. The Sign of the Crooked Arrow
5. The Secret of the Lost Tunnel
6. The Ghost at Skeleton Rock
7. The Sinister Signpost
8. The Hidden Harbor Mystery
9. The Haunted Fort
10. The Masked Monkey

What are your kids reading?
If you don't have kids, what are on your summer reading list?

We've been missing Aloha Friday. If you are missing it, then do hang out with
Pamela
- and I and we'll visit y'all too.
You can also take part in Amanda's Two Question Thursday which is going strong many years now.

We'll continue in honor of Kailani's fun rules:
"Welcome to this week's edition of Aloha Friday. In Hawaii, Aloha Friday is the day that we take it easy and look forward to the weekend. So I thought that on Fridays I would take it easy on posting, too. Therefore, I'll ask a simple question for you to answer. Nothing that requires a lengthy response. If you'd like to participate, just post your own question on your blog and leave your Aloha Friday post link below. Also, please consider linking back to this post so that others can join in, too! Don't forget to visit the other participants! It's a great way to make new bloggy friends!" – Kailani
For more Wordless/Wordful Wednesdays check out Judy's Thoughts and
5 minutes for moms
,
and
Parenting by Dummies
and
Go Graham Go
and
Stacy Uncork
e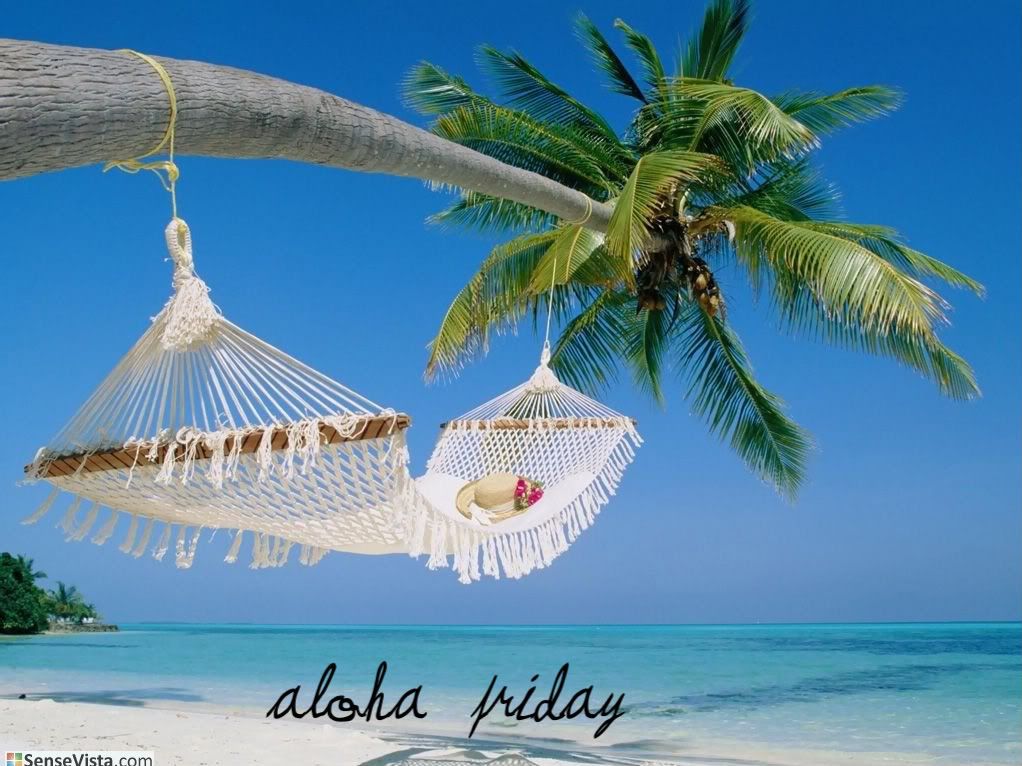 Colette is a busy mom of 2 kids focusing solely on being a mom. She hails from the Caribbean and now balances the full life of being a SAHM and dabbling in odd jobs to help around the home. She enjoys sharing her memories, hopes, food, travel, entertainment, and product experiences on her blog. Please read my
disclosure

Tweet