I hope I get to watch this movie. If I remember to watch, I'll have to wait for it to come to our library.

Will you go see it?




From the award-winning producers of the record-breaking miniseries The Bible, Roma Downey and Mark Burnett, comes Son of God, the larger-than-life story of The New Testament, to be released by 20th Century Fox on February 28, 2014. Son of God is a major motion picture that brings the life of Jesus Christ to the big screen like never before.

Told with the scope and scale of an action epic, the film features powerful performances, exotic locales, dazzling visual effects and a rich orchestral score from Oscar®- winner Hans Zimmer. Award-winning actor Diogo Morgado portrays Jesus as the film spans from his humble birth through his teachings, crucifixion and ultimate resurrection.

The movie is action-packed with special effects, powerful acting, and beautiful cinematography. It marks the first major motion picture about Jesus' life since Passion of the Christ, released ten years ago.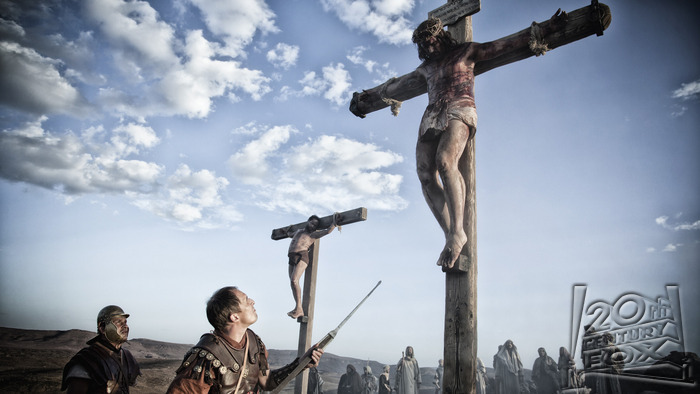 "AN EPIC WORK."
"Mark Burnett and Roma Downey's feature film Son of God proves that when talent and passion collide, the outcome is spectacular. Having spent time with them on the set, Victoria and I witnessed firsthand the deep and abiding passion they possess for God's Word. Every aspect of this production from the acting to the poignant storytelling is accomplished with excellence. Mark and Roma have succeeded in doing what few before them have done; they have produced an epic work that tells the Story of Jesus and touches the heart".
-Joel Osteen, Senior Pastor of Lakewood Church, #1 NY Times Bestselling Author
"THE BEST I"VE EVER SEEN."
"I've probably seen most, if not all, of the films about Jesus produced in the past 50 years. This one stands alone, in a class by itself, as the best I've ever seen. Brilliantly produced with stunning cinematography, a Hans Zimmer score and academy-worthy acting, it stands head-and-shoulder above the rest.
Son of God draws you into the story from the start. Not since the release of "The Passion of The Christ" ten years ago have I been this excited about a movie…Son of God brings to the Big screen the Story of Jesus. Here we see the wonder of His birth, The power of His mission, The loving sacrifice of His death but most importantly, we see The Eternal Hope of His resurrection. I am thrilled that 20th century Fox are distributing this film and know it will be a blessing to millions when it opens in theaters all across America this Spring."
-Rick Warren, Senior Pastor of Saddleback Church and Author of the #1 NY Times Bestselling Book A Purpose Driven Life
"EPIC MASTERPIECE."
"This epic masterpiece tells the world changing story of Jesus and inspires us to love and live for others just as He did."
-Santiago "Jimmy" Mellado, President/CEO Compassion International
Colette is a busy mom of 2 kids focusing solely on being a mom. She hails from the Caribbean and now balances the full life of being a SAHM and dabbling in odd jobs to help around the home. She enjoys sharing her memories, hopes, food, travel, entertainment, and product experiences on her blog. Please read my
disclosure

Tweet