Once Upon a time I stumbled on a free book. It was my first read of that time. Turns out it was the first book of a series. They are stand alone books, so there is no cliff hanger at the end to have to absolutely get the next book, however the next books intermingle and continue the stories of the characters.

It was a nice find. After I read the first book, I couldn't believe it was for free.

I wanted more books and went to search for more by the author. I found more of her work and couldn't believe they were free. I couldn't download fast enough! I thought they were on sale / free promotion and then soon would be selling like hot bread again.

After reading the book, I went to stalk the author :)
Found her facebook and website and even dropped her a note.

I couldn't believe she responded!!!! What author cares enough to actually respond.

Then one day I was just in the right spot to find her group and it has been quite a fun journey.

Still hard to believe a celeb is in our mix.

I've read all her books since then and some like the one below I might want to do a refresher, but I hope you'll grab one, or two and get cuddly! I suggest you begin with the first book, but even if you don't, you'll have this need to go read them quickly and start all over again :)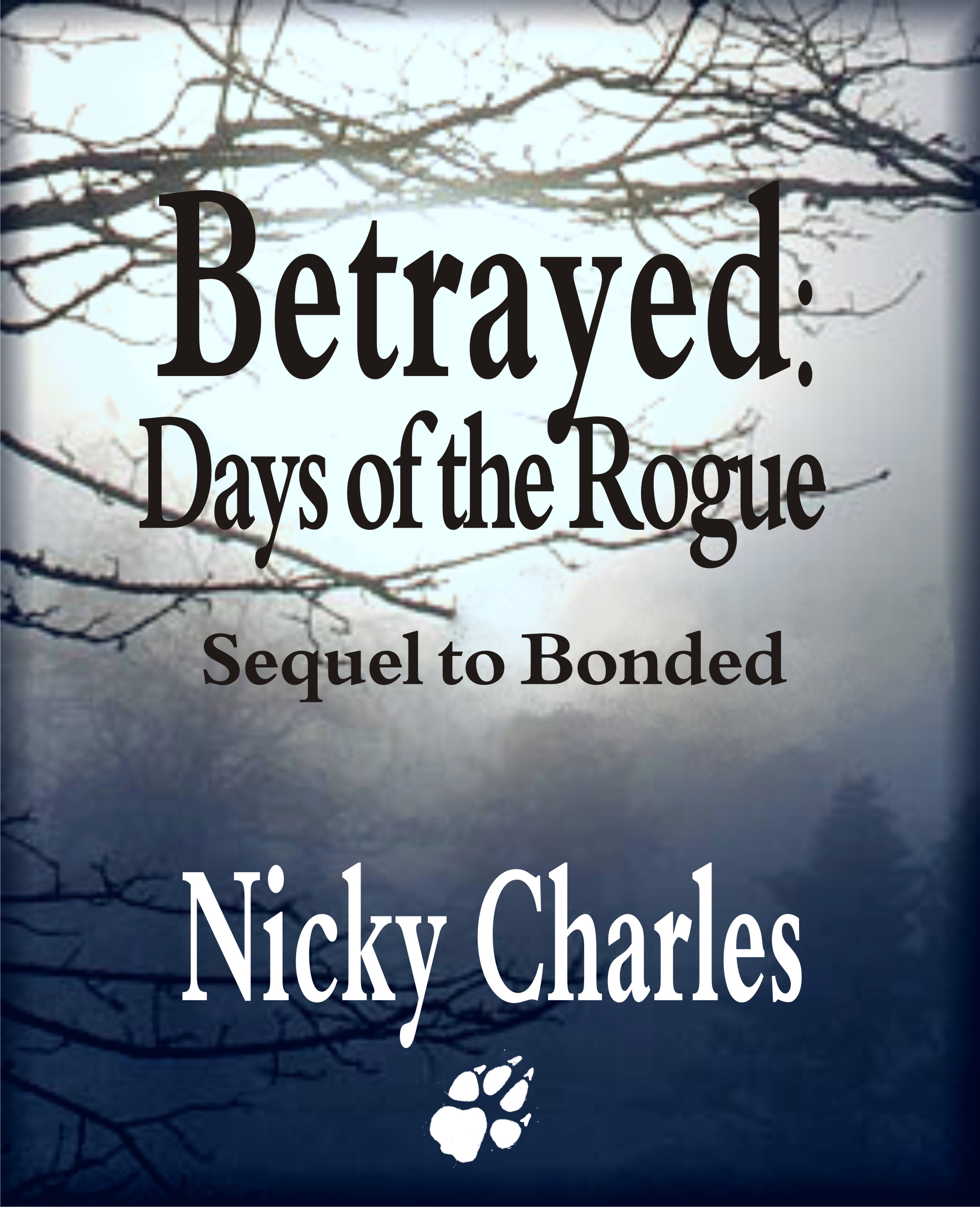 Purchase at:
Smashwords, Barnes Noble, Amazon
His mate killed in a horrific explosion, ex-Enforcer Damien Masterson now lives as a rogue werewolf. Grief stricken and filled with rage, what depths will he sink to in his search for revenge? And who will be caught in the crossfire? Will it be Eve, a Fae just entering the Awakening stage? Or Rafe McRae, part empath and part wolf? It's been said that a rogue Enforcer is too dangerous to be allowed to roam. A suspense driven story of love, betrayal and revenge, this latest addition to the Law of the Lycans series is the sequel to Bonded.

Excerpt:

Prologue
"Beth! Beth!" Damien screamed his mate's name, as he pulled away from the hands that sought to restrain him and ran towards the inferno that used to be his home. The heat from the fire hit him like a tangible wall, searing his lungs, his skin, his eyes. A sane man would have stopped, but he wasn't sane. His mate was in there. He could feel her pain; she was trapped under something, the fire was scorching her flesh... The intensity of it had him staggering, his body instinctively recoiling.
She was fighting, trying to block their mental link, trying to keep him from knowing her agony, but he wouldn't allow it. They'd vowed to share everything; the good and the bad. He pushed back with his mind, seeking her out while he struggled to get closer. Throwing his arm over his mouth, he used his sleeve to filter the air as he forged ahead.
Behind him voices were shouting, calling his name, but he ignored them. Beth. He had to find her; had to save her. This was his fault...
Bits of burning ash, blown about by the hot air current, fell around him, stinging his skin, burning holes in his clothes. The acrid smell of smoke filled his mouth and nose. He fought to breathe, coughing as his lungs protested against the unpalatable air. Squinting, his eyes watering from the smoke, he searched frantically for an access; a window, a door, but they were totally engulfed, flames shooting out like evil entities dancing with joy at the havoc they wreaked.
There was no way in, but he didn't care. Taking as deep a breath as possible, he prepared to rush through the wall of flame. Sirens sounded behind him. Help was on its way, but there was no time to waste. Beth needed him now. Beth and their unborn child.
Beth, I'm coming for you. Hang on my love... He sent the words out to her and got a faint reply.
I love you Damien. I'll always love you. Never forget…love... The words faded and then...then there was nothing.
Beth? His mind searched for her frantically. Where was she? Had she passed out?
The crackling of the fire was suddenly louder, echoing in his ears as he strained to hear her voice. A strange chill settled over him, a hollow, lonely feeling.
Beth! He mentally commanded her to answer, but there was no response.
He staggered, his knees nearly buckling. Pain ripped through his chest, a searing ache made his heart lurch.
No.
It couldn't be. Not his Beth. Not her. A spirit such as hers couldn't die. She was gentle and sweet and kind. Tears pricked his eyes but he forced them back and shook his head.
No.
It was a trick caused by the fire, the smoke... His senses must be skewed. He looked about frantically, searching for something, an explanation, anything... She couldn't be gone. Not his beautiful Beth. Not his mate, not his baby...
"Beth!" Her name ripped from his throat and he threw himself forward into the wall of flame.
Now I can't wait for the next book to come out! This will be a book that she'll be selling, but I think it will be worth every penny!
Betrayed: The Road To Redemption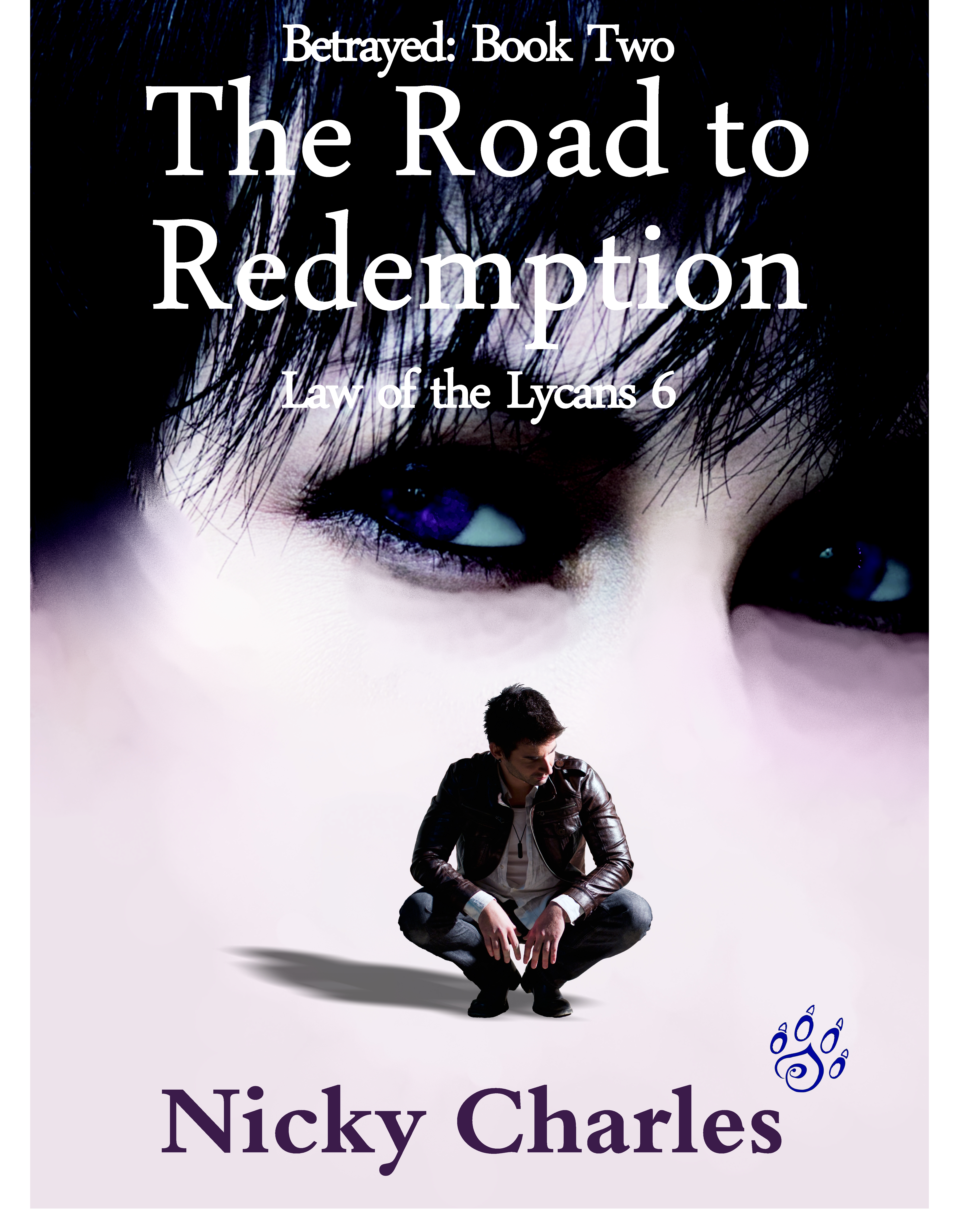 Releasing early May.
Learn More
..
How do you love again when your heart is dead? How do you know when it's time to let go?
Damien's kicked about the country these past three years. No pack. No purpose. No reason to keep on living. When an old friend, Kane Sinclair, asks for his help, he agrees and heads to Chicago. After all, what does he have to lose?
Sam's grown up on the streets. Raised to be an Alpha, she's strong and independent. Her duty to her pack rules her every move. As much as it irks her, she finds herself looking for help when Sinclair threatens to take over her territory. With the pack's future at stake, does she dare gamble on a rogue?
Can a rogue let go of his past and dare to face the future? Are strength and duty enough to pave the road to redemption?
The sixth installment in the Law of the Lycans
The Author:
Nicky Charles is an independent writer/publisher who creates stories in her spare time as a means of relaxation. She started writing fanfic for "Scarecrow and Mrs. King" in January of 2009 and wrote her first original, Forever In Time, in August of that year. The Mating, The Keeping and The Finding were her next books, forming a loose trilogy called The Law of the Lycans. She continues to expand the Lycan series and hopes to write many more in the years to come.
Nicky lives in Canada and tries to stick to Canadian spelling and punctuation in her work, in support of her country. When writing, she loves to describe scenes as if she were 'playing a movie in her head."
Ms. Charles loves reading, writing (of course), gardening, desserts, dark chocolate, her two cats and taking daytrips.
You can contact Nicky Charles at her website:
www.nickycharles.com
Facebook:
Facebook Page
Colette is a busy mom of 2 kids focusing solely on being a mom. She hails from the Caribbean and now balances the full life of being a SAHM and dabbling in odd jobs to help around the home. She enjoys sharing her memories, hopes, food, travel, entertainment, and product experiences on her blog. Please read my
disclosure

Tweet