If all goes well, this will be my first online purchase of an e-book :)

Do you purchase e-books online regularly?
What are your favorite place to purchase from? And what makes your decide to buy a book?

I've loved this author for quite awhile. And because she is so gracious to my stalking and have proven to be a wonderful woman, I want to feature her new book release!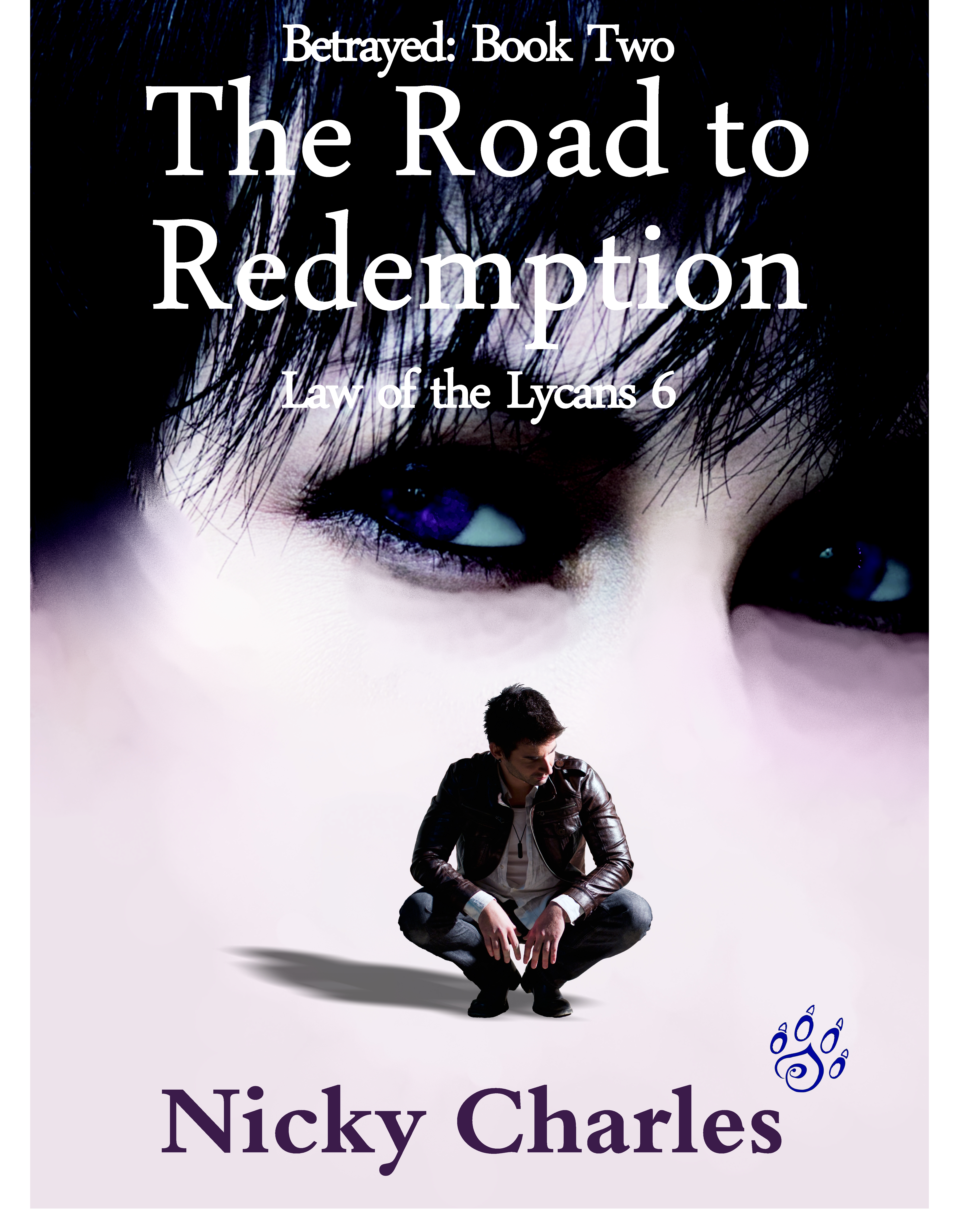 If you are a new fan and read this and want to read her other books, you'll be in for a treat!
Go get it y'all. It's on the shelves!

Learn more about the rest of Nicky's books because you'll really fall in love and want to read them!


Betrayed Book 2: The Road to Redemption (Law of the Lycans #6)
Description:
How do you love again when your heart is dead? How do you know when it's time to let go?
Damien's kicked about the country these past three years. No pack. No purpose. No reason to keep on living. When an old friend, Kane Sinclair, asks for his help, he agrees and heads to Chicago. After all, what does he have to lose?
Sam's grown up on the streets. Raised to be an Alpha, she's strong and independent. Her duty to her pack rules her every move. As much as it irks her, she finds herself looking for help when Sinclair threatens to take over her territory. With the pack's future at stake, does she dare gamble on a rogue?
Can a rogue let go of his past and dare to face the future? Are strength and duty enough to pave the road to redemption?
The sixth installment in the Law of the Lycans
(made by a fan who is also a member of Nicky's street team)
Damien leaned against the brick wall, its rough surface lightly digging into his shoulder through a rip in his shirt. He was breathing hard, sweat trickling down his face, the still, heavy air doing nothing to help cool him off. With each inhalation, he took in the scents of the city; exhaust fumes, garbage, humanity… The back alley of one city smelled very much like that of another though this one had one significant difference. Lycans.

The she-wolf across the alley from him had her butt propped against the edge of a dumpster, her hands braced on her knees as she stood, half hunched, trying to catch her breath. The fight they'd just completed had been exhilarating as she'd matched him move for move. He'd barely needed to hold back; her speed and agility making up for what she lacked in size and muscle. Already, faint aches and pains were letting themselves be known, and no doubt in brighter surroundings he'd find a fine array of bruises decorating his body.

Grabbing the edge of his shirt, he gave his face a quick wipe, careful to keep one eye on his opponent. When Kane had described the petite female who acted as Samuel Harper's spokesperson, he'd made her sound ineffectual. Damien had pictured her as demure, perhaps carrying a clipboard and peering over her glasses. While it was true she might not look like much of a threat, the last few minutes had shown it wasn't wise to underestimate her. He wondered if Kane had set him up; purposely leaving out the information that the woman packed a lethal punch. Thanks, buddy.

Pushing off from the wall, he swallowed, wincing slightly at the pull of his dry throat and wishing he had a stiff drink. But there'd be time enough for that later. Instead, he focused on her.

"We done?"

There was a pause in her breathing and then he saw her nod.

"Yeah. I think we're done."

Had he really heard a hint of laughter in her voice? Damien eyed her speculatively as she straightened from her braced position. At some point their battle had moved from the street to the alley where they now stood. The faint light from a single bulb over the backdoor of a restaurant was the only illumination. It wasn't much, but he was still able to make out her features. Short, dark hair, a petite yet muscular build. An alley fighter—a damned good alley fighter—and a female. Who'd have thought?
The Author:
Nicky Charles is an independent writer/publisher who creates stories in her spare time as a means of relaxation. She started writing fanfic for "Scarecrow and Mrs. King" in January of 2009 and wrote her first original, Forever In Time, in August of that year. The Mating, The Keeping and The Finding were her next books, forming a loose trilogy called The Law of the Lycans. She continues to expand the Lycan series and hopes to write many more in the years to come.
Nicky lives in Canada and tries to stick to Canadian spelling and punctuation in her work, in support of her country. When writing, she loves to describe scenes as if she were 'playing a movie in her head."
Ms. Charles loves reading, writing (of course), gardening, desserts, dark chocolate, her two cats and taking daytrips.
You can contact Nicky Charles at her website:
www.nickycharles.com
And don't forget to visit Nicky's author page on Facebook
Do you purchase e-books online regularly?
What are your favorite place to purchase from? And what makes your decide to buy a book?
Colette is a busy mom of 2 kids focusing solely on being a mom. She hails from the Caribbean and now balances the full life of being a SAHM and dabbling in odd jobs to help around the home. She enjoys sharing her memories, hopes, food, travel, entertainment, and product experiences on her blog. Please read my disclosure

Tweet